Reduce the price and add emotion with the CCB Bonus Program and your CCB card!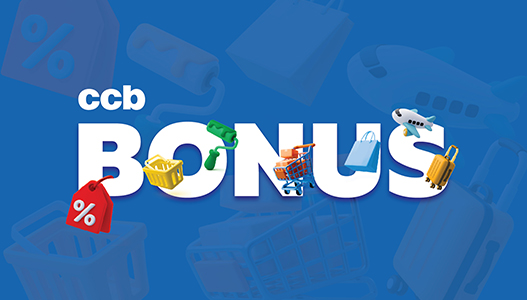 Central Cooperative Bank is pleased to offer you the latest CCB Bonus catalogue created with a lot of attention and intent to match your desires, needs and lifestyle. Especially for you, we have selected our discount shopping deals with our many partners.
CCB Bonus brings a good mood to your everyday life and charges you with enthusiasm while shopping at your favourite stores, surprising you with discounts on your trip and offering you opportunities for bargain purchases.
You can carry the mobile version of the CCB Bonus catalogue everywhere and it will help you find locations where you get discounts.
To take advantage of the attractive discounts with our partners, pay with your debit or credit card issued by Central Cooperative Bank. For some merchants, the discount only applies to CCB credit card payments.
The proposals are valid for the period 1 May 2022 to 30 April 2023.
Please remember to remind of your discount at the time of purchase.
The discounts apply to non-promotional products, unless otherwise indicated.
The discount offers in the shops included in the program are valid for CCB AD card payments.
The discount offers apply to non-promotional products and services, unless expressly stated otherwise.
The hotel accommodation discount does not apply during national and official holidays as well as during local holidays and special events, except upon the express consent of the merchant.
The discount is obtained locally at the points of sale at the time of the purchase.
The discount offers do not apply to the purchase and use of vouchers, unless expressly stated otherwise.
If you are refused to be given a discount at any of the shops, please inform us by phone: *5050